We've been talking a lot lately about how to stand out in your sweet business. We've thrown out ideas about hand-written thank you cards for customers and follow-up emails after delivery, and these have all been excellent ideas. However, it just occurred to me today, that we should also talk about how to use product offerings as a way to stand out.

When I recommend using product offerings to stand out, the first thing you will probably think of is adding edible items to your menu. Well, yes...that is one way to do it...BUT...what about decorations and non-edible party items??

Think about it. What birthday boy or girl, future bride or graduating senior doesn't feel some type of special when they see their name printed at their party...and I'm not just talking about on the invitations. I am talking banners, stickers, party favors and more!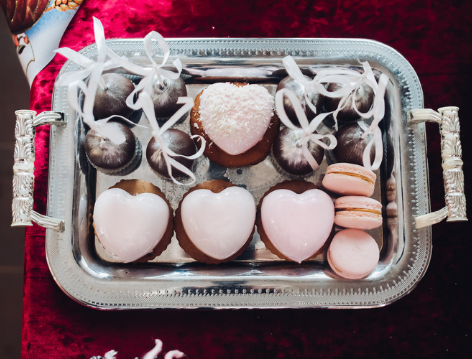 What if I told you, that you can offer that to your customers without any extra cost to you??

Sweet Peeps...I introduce to you Birthday In A Box!
It is a party supply website that I came across recently, and I figured it would be the perfect site for those who specialize in birthday parties and other celebrations.

Not only do they have themed party supplies such as plates, napkins, etc...they also offer personalized banners and party favors at a reasonable price! Pretty cool, right??
So here is the kicker AND the whole reason why I am even sharing this with you...Birthday In A Box is going to be your key to offering something new and different to your customers without any extra cost or much added work on your part.
The basic idea is that you add the personal banner or personalized party supplies (such as bubbles, lip balm, stickers, etc) to your list of services. Set a price that will (1) cover the total cost of the item(s) including taxes and shipping, and (2) includes a little extra money for your efforts. 😉

The awesome part is that you can offer almost anything that is available on the site, and you won't have to keep any extra product on hand or spend your own money in advanced. Just make sure that you allow for delivery time. Also, I strongly recommend collecting an upfront deposit when offering this service so that you won't have to come out of pocket.
Final tip...if you offer this personalization as a new service and your customer asks if you make these items yourself, you can be open with them by saying that you use a vendor. You shouldn't feel obligated to share the name of this vendor as that would defeat the purpose because your customer could then just go directly to the source without you.
I hope you found this little tidbit helpful. If so, please let me know via email or through the Sweet Success Project Facebook group. I would love to hear your thoughts!