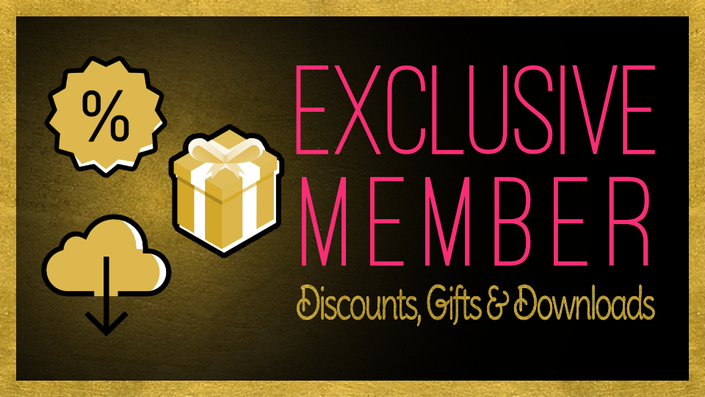 Sugar Coin Academy Discounts, Gifts, & Downloads
One-stop for All of the Member Exclusive (Non-Lecture) Benefits
Member Discounts

Now that you are a member of Sugar Coin Academy, get ready to save even more coins! During the year, both Chef Schonberg and Cyd host trainings outside of the Sugar Coin Academy. As a member of SCA, you will receive exclusive member only discounts and special pricing for those classes & trainings.
Email announcements will be sent out when new discount codes are added, but you can also check in this module if you happen to miss the email.
Appreciation Gifts

We couldn't do this without you, and we appreciate the love and support that you show us daily. So, as a token of appreciation...all Sugar Coin Academy members will receive thank you gifts from us in the mail. As items become available, you will have the opportunity to have a gift sent straight to your home. #HappyMail
Exclusive Downloads

Life just got a little easier! In addition to our LIVE and Pre-Recorded trainings, Sugar Coin Academy members can get a little bit more time back in to their day. Download EXCLUSIVE documents such as our Monthly Social Media Calendars and other goodies to help you stay organized and on track in your sweet business.
Course Curriculum
Submit/Update Your Contact Information
Available in days
days after you enroll
Member Discounts
Available in days
days after you enroll
Join the Sugar Coin Academy!!
---
This content is EXCLUSIVELY available through the Sugar Coin Academy. If you're looking to learn more about how to grow a profitable baking or sweets business, you definitely need to become a member! When you join the Sugar Coin Academy, not only will you gain access to the content detailed below, you will also gain access to other EXCLUSIVE trainings and recipes. Click the little Sugar Coin piggy bank to learn more about the Sugar Coin Academy and ENROLL.

Have questions or need help?
The Sugar Coin Academy is all about helping sweet business owners, and we want to make the learning process as fun and stress free as possible. Email [email protected] for help with navigating the academy and/or technical difficulties. We look forward to hearing from you and helping you along your sweet business journey.