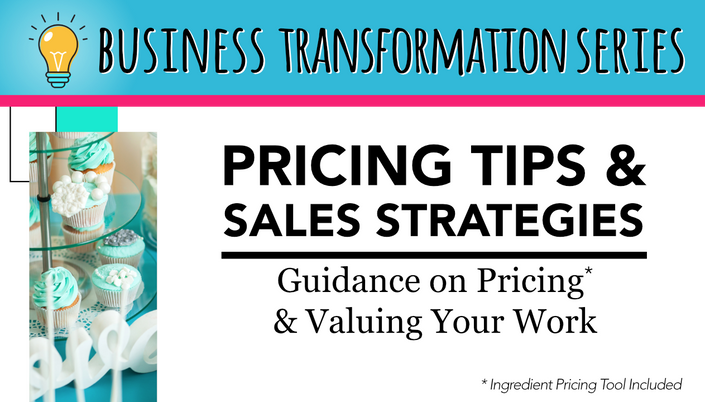 Pricing Tips & Sales Strategies
Guidance on Pricing & Valuing Your Work

Pricing!!! Its the biggest issue in the Sweet Community. The question "How much would you charge?" is a daily post on social media within online sweet community support groups. Pricing your sweets shouldn't be a guessing game. In fact, pricing should be based on two things: (1) COST and (2) VALUE.
Join Chef Amanda Schonberg and Sweet Business Coach Cyd Mitchell for a Masterclass on tips for boost your pricing confidence and strategies for increasing your sales.
This training includes pricing and sales tips as well as an overview of the online Ingredient Costing Tool, a tool to help you break down the cost of the ingredients in your recipe using the same technique that powers the mobile pricing app Bakenomics.
Access to this content is FREE to Sugar Coin Academy members, but non-SCA Members can gain access to this Masterclass and the Ingredient Costing Tool for only $27.
If you're not a member of the Sugar Coin Academy and would like to become a member for only $10/mo to gain access to this class and over 40+ hours of EXCLUSIVE Sweet Business trainings and recipes, visit www.sugarcoins.com to enroll and become a #SugarCoinCollector!
Course Curriculum
Pricing Tips & Sales Strategies
Available in days
days after you enroll
Ingredient Costing Tool
Available in days
days after you enroll
Join the Sugar Coin Academy!!
---
Since this was provided as part of a FREE Sugar Coin Academy Open House event, the replay is available to Non-Sugar Coin Academy members for only $27. However, if you'd like access to the other EXCLUSIVELY Sugar Coin Academy content, and you're looking to learn more about how to grow a profitable baking or sweets business, you definitely need to become a member! When you join the Sugar Coin Academy, not only will you gain access to the content detailed on this page, you will also gain access to other EXCLUSIVE trainings and recipes. Click the little Sugar Coin piggy bank to learn more about the Sugar Coin Academy and ENROLL.

Have questions or need help?
The Sugar Coin Academy is all about helping sweet business owners, and we want to make the learning process as fun and stress free as possible. Email [email protected] for help with navigating the academy and/or technical difficulties. We look forward to hearing from you and helping you along your sweet business journey.