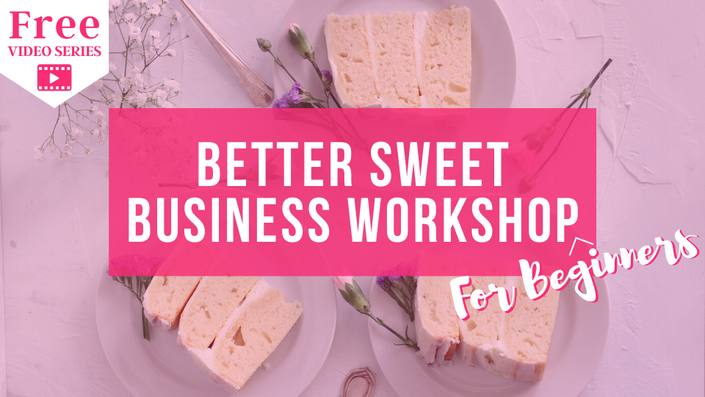 Better Business Workshop for Beginners
A workshop for bakers and sweet makers to learn the basics of starting a Sweet Business.
Watch Promo
Are you ready to turn your baking hobby into an actual thriving sweets business? Do you ever have questions about the legal stuff? How to get started? As well as marketing issues, like how to grow your business?
If this sounds like you, be sure to sign up for the online training "Better Business Workshop for Beginners!" Sugar Coin Academy Co-Founders, Chef Amanda Schonberg and Sweet Business Coach Cyd Mitchell will be discussing TEN steps to Building a Successful Baking and Sweets Business.
We can't wait to see you in class! Sign up today for FREE!


New to the baking & sweets making business?
If you're new to the baking and sweets industry, you've come to the right place. The Sugar Coin Academy is perfect for Sweet Peeps who are ready to turn their sweet making hobby into a business.

Confused about online marketing and growing your client base?
If you're ready to start marketing your business online, but you're lost when it comes to growing a following...this training will give some beginner strategies for winning new business and building a presence in your community.

Need help understanding the numbers in your growing business?
Accounting, bookkeeping and finances can be a hard concept for even the most business savvy person to figure out. If you're more creative and not so much into numbers, this training will point you in the right directions to make sure your financials don't become just another neglected part of your business.

Stressed about the legal part of starting a business in your state?
Understanding the legal do's and don'ts of the home based, baking & sweet making world can be tricky...but you shouldn't let it intimidate you. In this training, we will provide insight and resources to help with making sure that you are conducting business the legal way
Course Curriculum
Welcome Letter!
Available in days
days after you enroll
Join the Sugar Coin Academy!!
---
This training is provided by the Sugar Coin Academy, a business training program for current and aspiring business owners in the baking and sweets industry. If you'd like access to the other EXCLUSIVELY Sugar Coin Academy content, and you're looking to learn more about how to grow a profitable baking or sweets business, you definitely need to become a member! When you join the Sugar Coin Academy, not only will you gain access to the content detailed on this page, you will also gain access to other EXCLUSIVE trainings and recipes. Click the little Sugar Coin piggy bank to learn more about the Sugar Coin Academy and ENROLL.

Your Instructor
Cydni N. Mitchell (aka Cyd) is the founder of www.thesweetfest.com, a marketing company created to support the business needs of the Sweet Community. By trade, Cyd is an accountant & financial analyst with a Masters from the Kenan-Flagler Business School at the University of North Carolina at Chapel Hill. She has worked closely with many of the Sweet Makers on her site to help them develop and successfully implement their own social media marketing strategies, re-branding initiatives, business plan remodeling, and more. She has worked for Fortune 100 Companies Comcast and Apple, she was an Expense Analyst at Lincoln Financial Group a Fortune 500 Company, and she is an alumni of PricewaterhouseCoopers one of the world's leading Public Accounting firms.
Have questions or need help?
The Sugar Coin Academy is all about helping sweet business owners, and we want to make the learning process as fun and stress free as possible. Email [email protected] for help with navigating the academy and/or technical difficulties. We look forward to hearing from you and helping you along your sweet business journey.